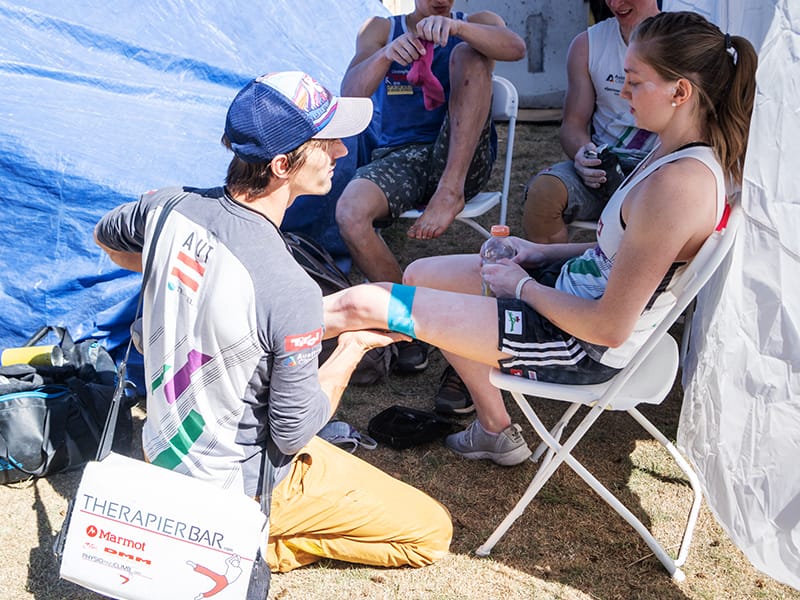 It never gets boring
It was the 10th time for me in Vail and it never gets boring. The routine of the Austrian Climbing Team starts with two days in Boulder, Colorado.
In the bouldering gym we gather with many athletes from all over the world to train one or two more times before heading to the higher grounds of Vail.
The quiet before the storm
Once we are in our amazing Lodge Tower Apartment Room 199 it's treatment time. I prepare/treat/massage the team members.
The next day usually feels like the quiet before the storm. If not necessary I don't treat. Athletes go out and explore Vail and the Mountain Games.
I usually walk to the beautiful rivers or ponds for fly fishing which is nice and calm.
The storm after the quiet
From that moment on when the Iso for the qualification opens, time is slipping away. After this round I have to treat: Athletes who qualified for the semis always come first, except there is an injured athlete.
And that is not an exception in Vail. I don't know why, but every year I see injured athletes:
Kilian Fischhuber, Anna Stöhr, Katharina Saurwein, Johanna Ernst – all of them got injured in Vail.
 
Climbing injuries
So far I have experienced the following injuries in Vail: broken toe, asthmatic breathing problem (due to the very dry air), broken cruciate ligament, twisted ankle (two times), various knee issues, and so on…
Johanna got injured
This time Austrian athlete Johanna Färber injured her knee. Until now it looks like a meniscus damage, an injury which seems to occur more often in our sport. The procedure with an accident like this is clearly cooling and compressing instantly.
An anti-swelling procedure including lymphatic drainage can be seen as the standard.
One day later we had to leave Vail. For the long distance flight you have to be prepared. The main goal is to reduce the risk of a thrombosis.
Therefore treatments and preparation (compression) before and during the flight are essential.
Header photo © Eddie Fowke